So glad you're here!
If you're a hopeless romantic and a fantasy lover, you're in the right place, because so am I!But even if you're neither of those things, you're welcome to stay as we gush over swoony banter, enemies turned lovers, and happily ever afters.Yes, I'm a fantasy romance author who relishes in taking the familiar and beloved stories & tropes and giving them my own twist.Behind the books, I'm an Army wife and mom of four, living my best life here on the Wyoming prairie with a gin and tonic in hand and New Girl on repeat.
Bonus Chapters...
Get bonus chapters for the Aisling Sea Trilogy when you subscribe to my email list. Sign up is in the header up top!
Exclusive Peek Behind the Scenes...
Want to read unused/deleted scenes from my books?
Or maybe get to read my books first... before anyone else... like, as I write them?
What about getting first access to titles, covers, and artwork? Having a voice in place and character names? Art prints and exclusive merch?
Or how about early access to signed book sales and an invitation to purchase my event exclusive editions?
Join me on REAM for your exclusive peek behind the scenes of my books and dive into my writing life.
Aisling Sea Series
The series is now complete! Available on Kindle Unlimited and Audible and in paperback and hardcover on most online retailers.Click below for more info!
© 2023 Vanessa Rasanen. All rights reserved.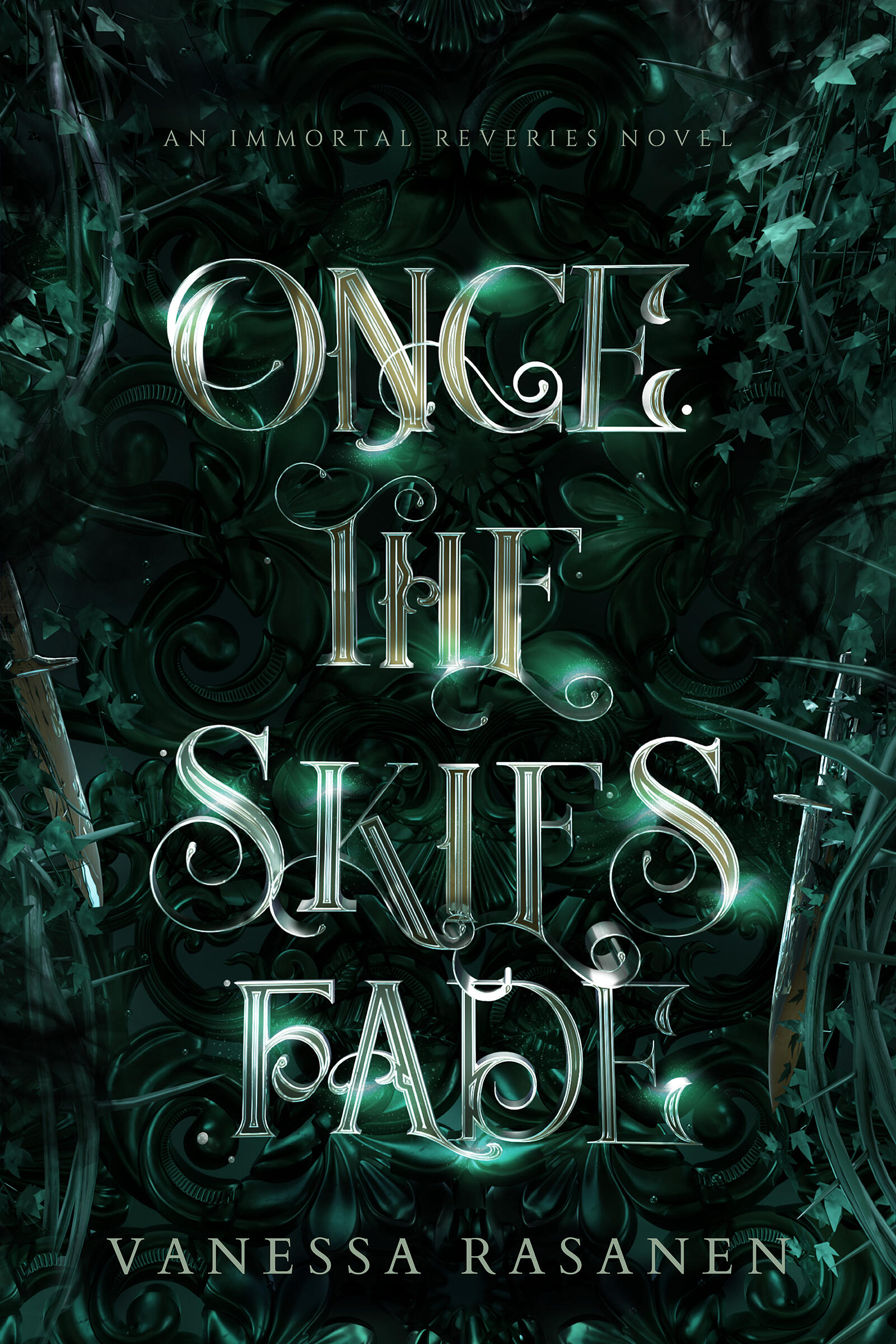 Until the Stars Fall
The last time a fae king took a human bride it started a war.
This time it could prevent one.One of the few humans at the palace, Lykke has served the royal family her whole life, enjoying their protection from the fae who hate her kind. Unfortunately, nothing could protect her heart from falling in love with her best friend–the prince. Even if he returned her love, he could never marry a human, let alone a servant.But holding onto her mother's words that love can conquer all, she refuses to give up, no matter the costs.As the crown prince, Connor is preparing to be king and doing his best to rebuild the king's armies and neutralize a rebel threat. Tasked with also ensuring his younger brother ends his licentious ways and marries a neighboring princess, he thinks things can't get any worse. Until a human servant–a woman he saved years ago–catches his brother's eye and threatens to ruin everything.When Lykke finds herself sentenced to death for murdering a fae noble, she's shocked to see it's the older brother—Connor—who steps in to save her. And not in the way she expected.In a world jaded by war, where love is weakness, a fae prince finds himself torn between his desire to save his country and his growing love for a human. He can't save both, but how can he choose between his duty and his heart?Until the Stars Fall is the first in a new fantasy romance collection of interconnected stand-alones, sweeping you to a magical war-torn world. This fated mates tale with a fake engagement brings you a noble fae prince who falls first–and hard. Loosely inspired by the movie, Sabrina, this slow-burn romance will have you swooning.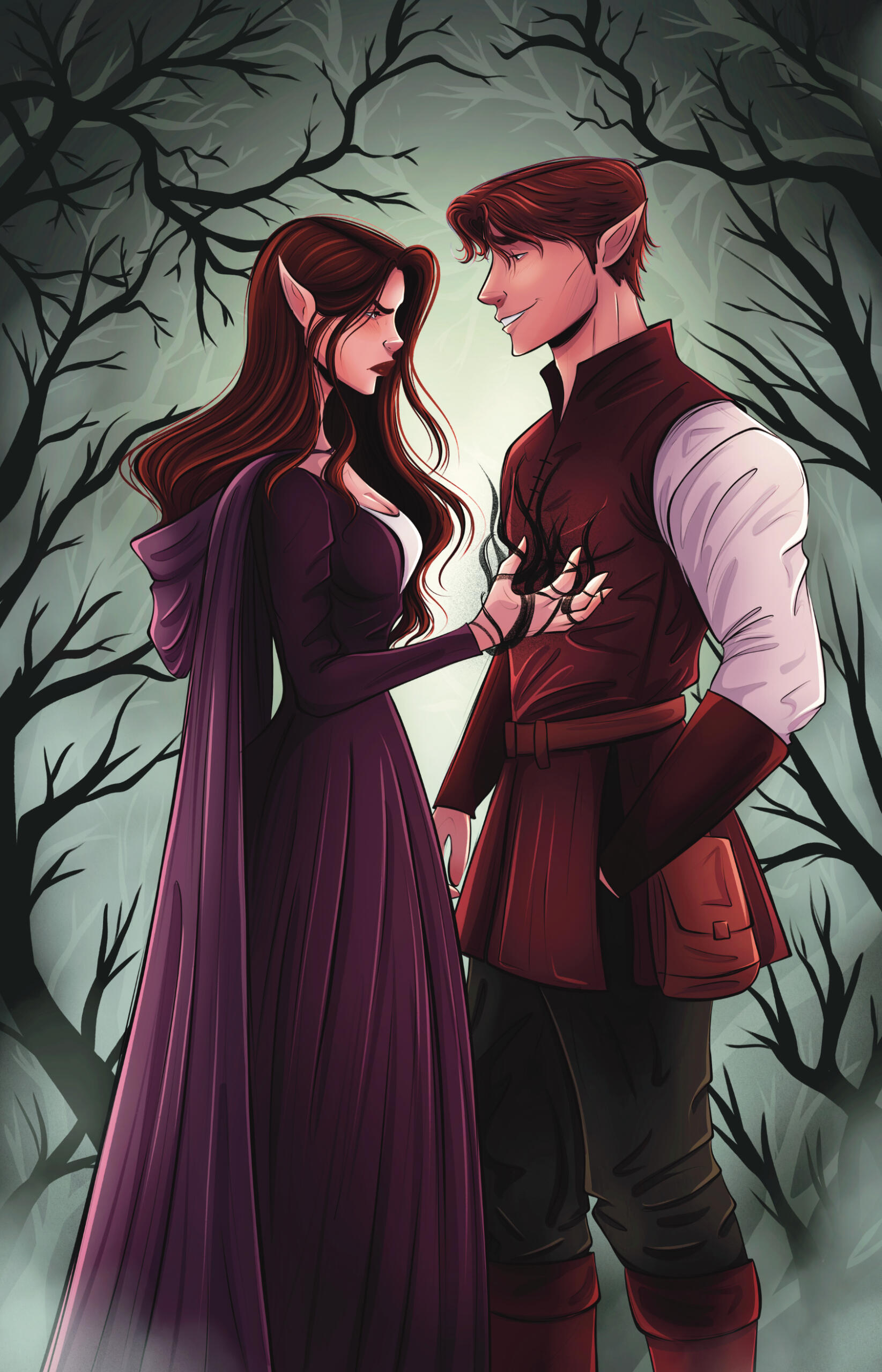 Author Note
This series is recommended for older teens and adults, as it contains violence, language, and steamy content. Spicy scenes are written on page when it makes sense for the story.
More Info
A new adult fantasy romance collection of interconnected standalones, perfect for readers who love:
- retellings
- fated mates
- one bed/one horse
- fake engagement
- mistaken identities
- enemies to lovers
- fae, vampires, shifters, and all manner of creatures, immortal and otherwise
- spice that doesn't take over the plot
Series plans
This collection is slated to have five books total:Until the Stars Fall (February 2024)
Once the Skies Fade (August 2024)
Untitled 3 (February 2025)
Untitled 4 (TBD)
Untitled 5 (TBD)The first three books have been acquired by Dreamscape Media for audiobook production!
Aisling Sea Trilogy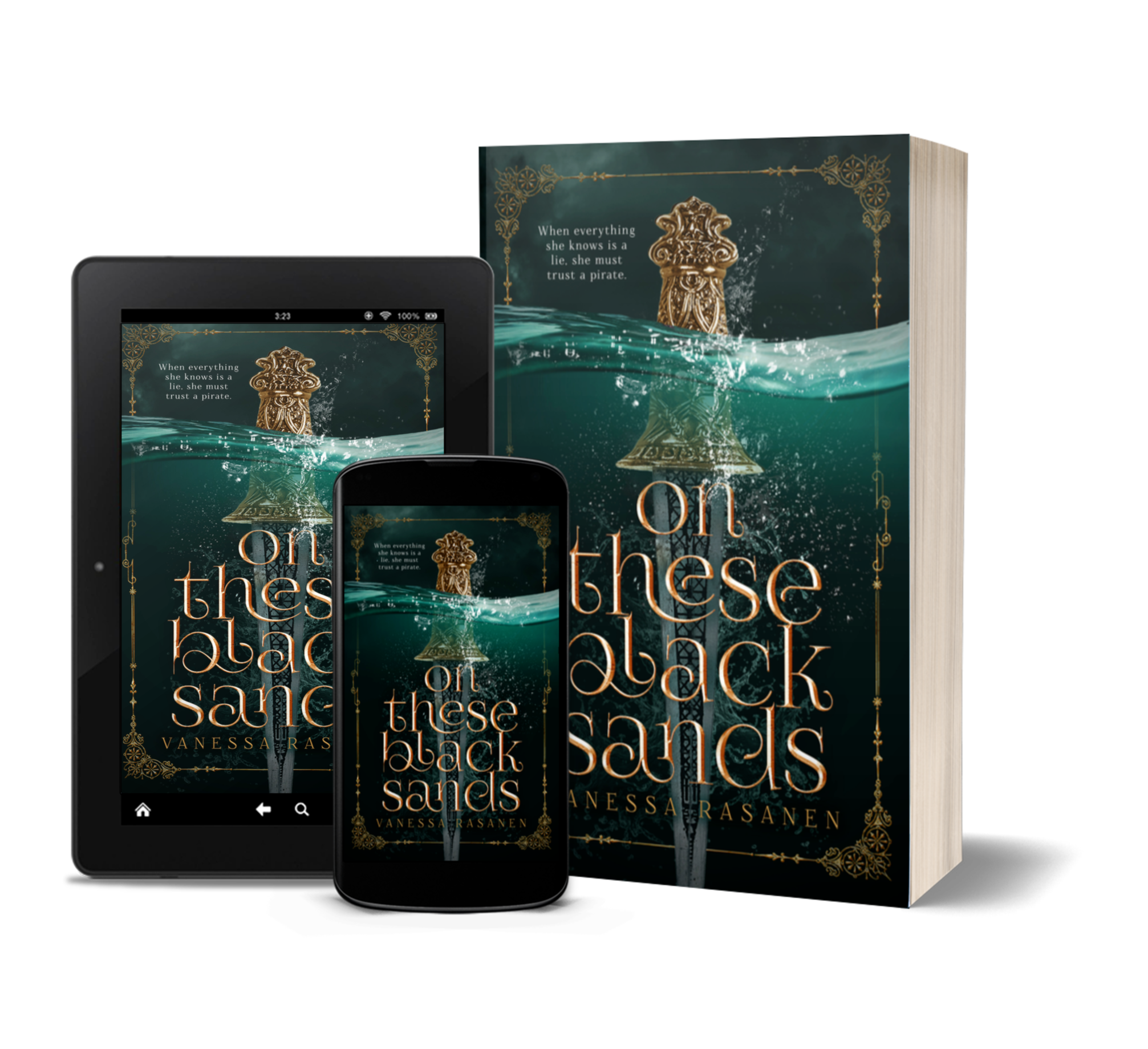 On These Black Sands (#1)
In a world of lies and betrayal, trust can be dangerous and alliances can turn deadly.One of three heirs, Aoife has prepared her whole life to step into her mother's seat on the Council and to help maintain the peace. Soon she will be matched to a pirate lord and begin her life of service in a loveless union–a fate she reluctantly accepts.But when her awkward tongue gets her in trouble–and her sister exiled–she learns the truth about the Council and the legacy she's to inherit.Guilt-ridden over her mistake and convinced her people are better without her, she runs, seeking passage on one of the pirate ships.
A pirate with a ruthless reputation, Declan has avoided his island home for years, refusing to pay the price the Council requires of his kind. When a bit of bad luck forces him to return, he discovers his chance to be free of the Council and his past for good–a legendary dagger with the power to grant victory to any who wield it. With thirty days to deliver the weapon to the rebels, he can't afford any delays–or distractions.So when an obnoxious heir demands passage off the island, the answer is an easy no. But he soon learns he can't control her any more than he can control the seas, and she stows away on his ship. Against his better judgment and the demands of his crew, Declan allows her to stay, but just until the next port.Unfortunately for him, she could be the key to retrieving the dagger.Now this desperate pirate and stubborn heir must set aside their hatred to find the freedom they both desire… but they might just lose their hearts in the process, discovering a love neither wanted.Will love save them in the end or will it prove more dangerous than anything else on these seas?On These Black Sands is the first book in a new adult fantasy romance trilogy, pulling you into a unique world of heart-rending betrayal, deadly legends, and swoon-worthy love.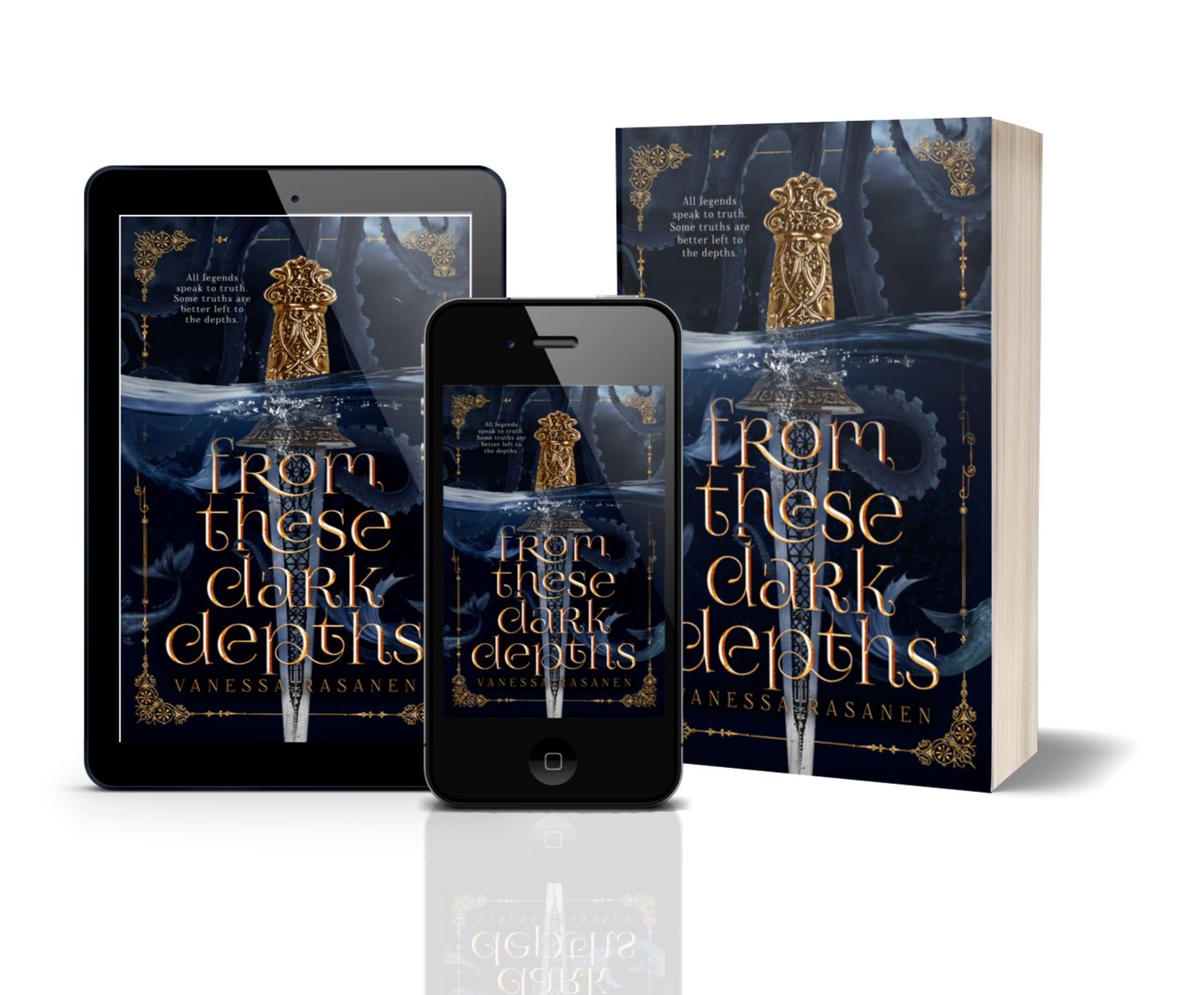 From These Dark Depths (#2)
Being eaten by a siren queen is at least an interesting way to die.
And Declan has little hope of avoiding it while locked in this brig.His captor is ruthless. His guilt is relentless.Everyone he needs is back on his ship, hopefully chasing after him…without tempting death themselves.But if they don't make it in time, he'll have to face the queen.And his demons.An heir stole his heart. Now that heart–and the remorse it harbors–may get him killed.Or worse.Black Sails meets Throne of Glass in book 2 of the Aisling Sea series. The stakes are higher with new dangers and more swoon-worthy romance sure to create fans of insta love. This is a forbidden love story with a bit of steam and a cliffhanger ending.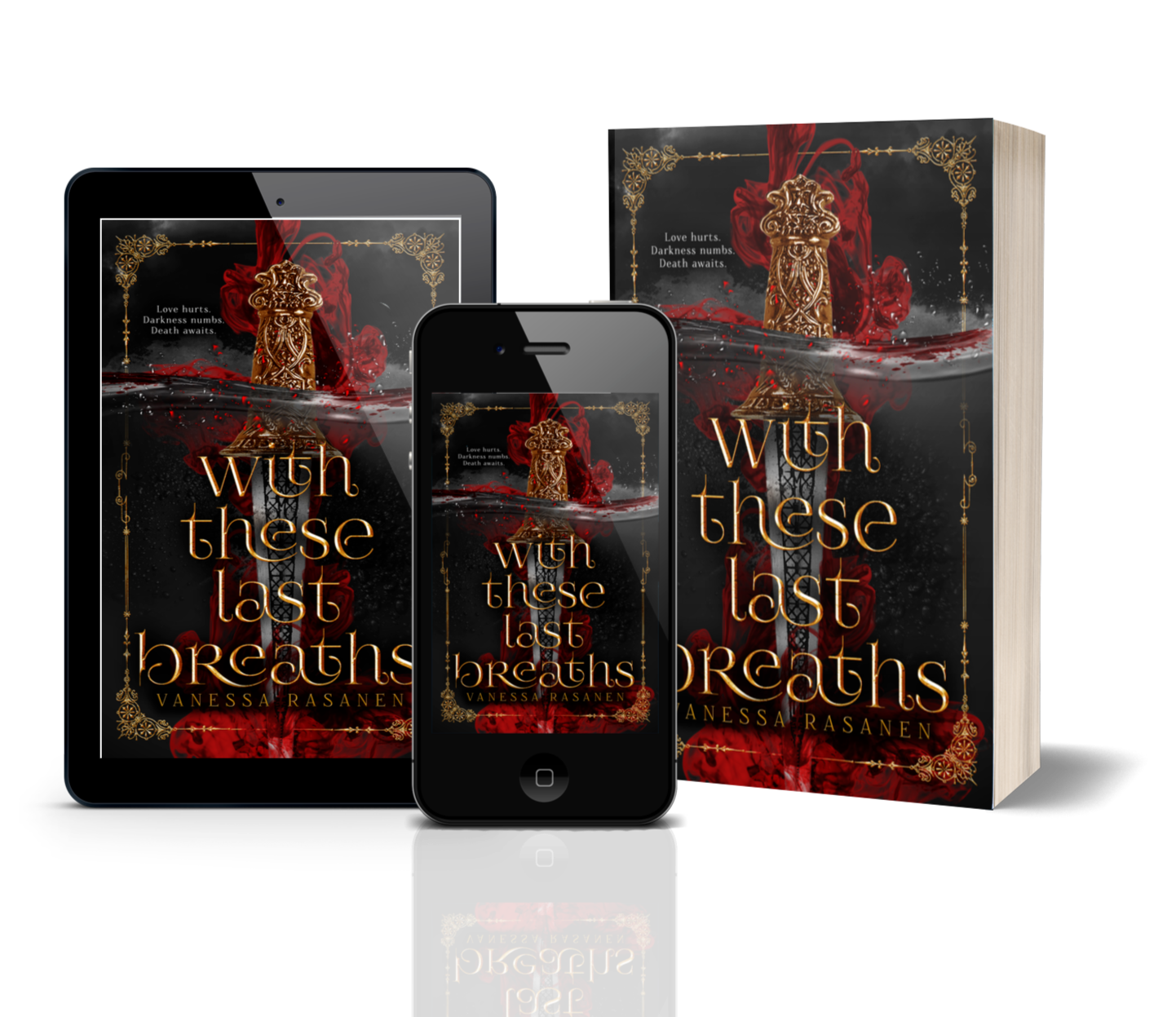 With These Last Breaths (#3)
Every journey must end... one way or another.And in Declan's experience, that usually means death.Death of his enemies. Death of his friends.Their one hope of surviving is in the hands of a man he wants to see suffer... even if it means letting the darkness within take over.But even if he retrieves the dagger, he could still lose everything.He could still lose her.He may not be good enough—he may not deserve her—but he's not about to let her go.Not without a fight.This is the final book in the Aisling Sea series. Darker, grittier, spicier, this book contains anxiety representation, torture, violence, family drama, and on-page intimate scenes.
More Info
A new adult fantasy romance series for readers who love:
- slow-burn romance with all the tension
- a bit of steam that builds with each book
- the one bed trope
- morally gray heroes
- relatable heroines
- found family & a feisty supporting cast
- fae royalty, man-eating sirens, & other magical creatures
- snarky banter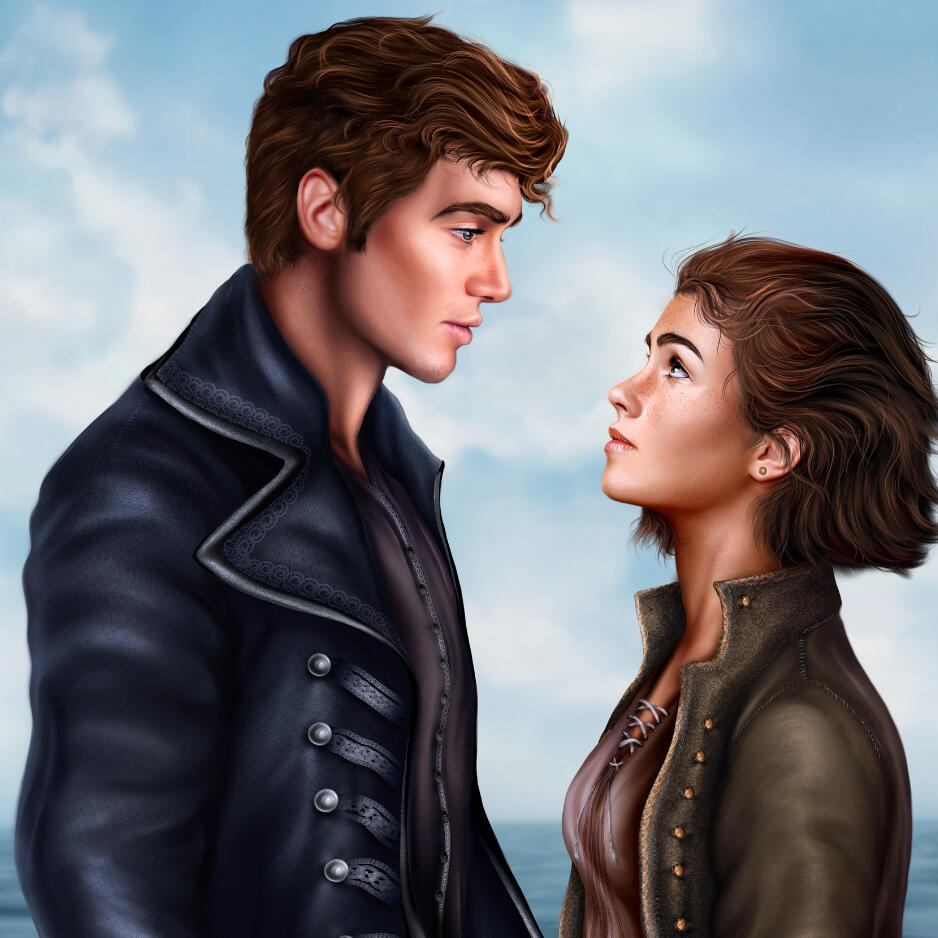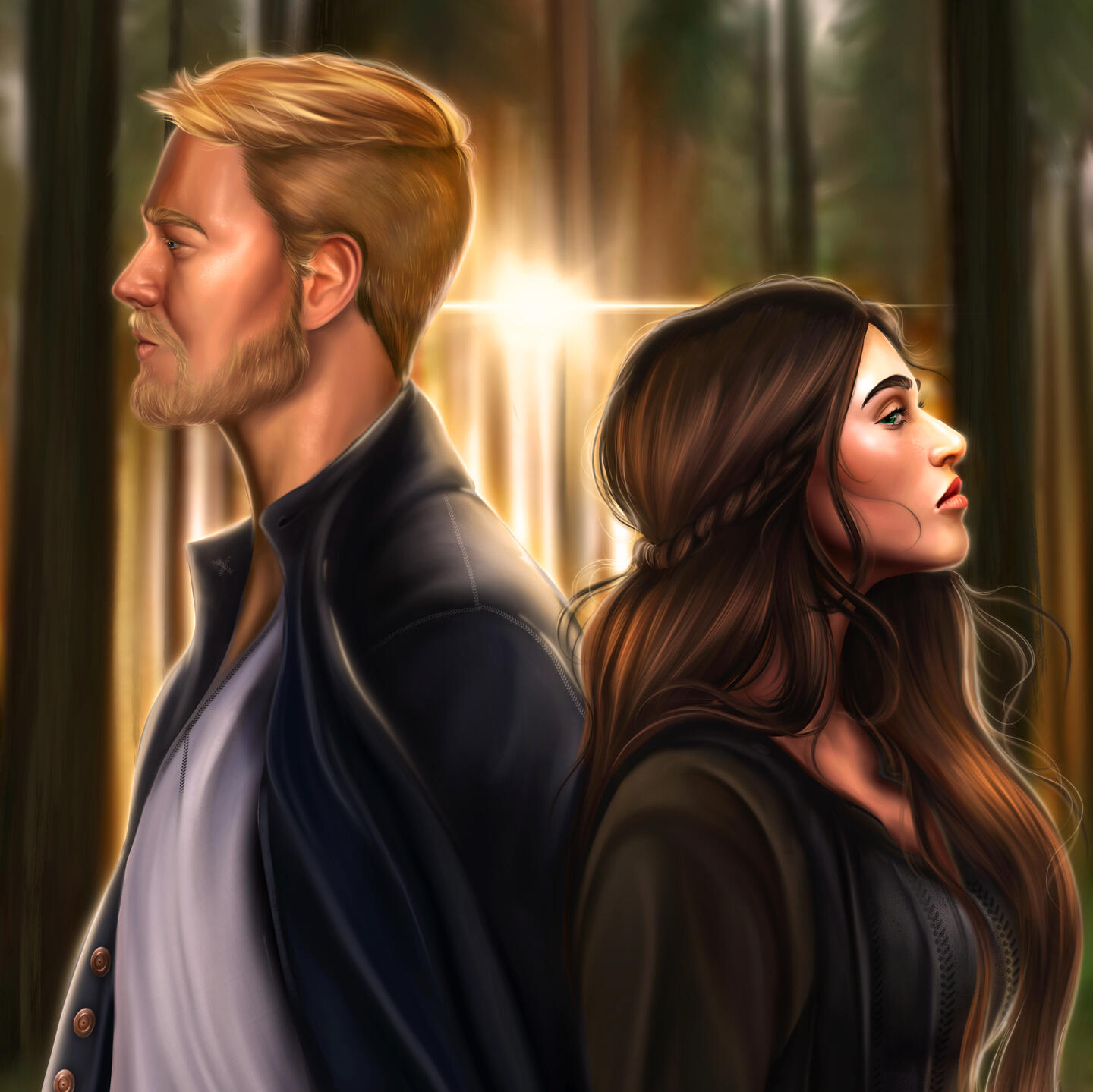 Series Plans
This series will have three books total:On These Black Sands (August 2021)
From These Dark Depths (August 16, 2022)
With These Last Breaths (August 15, 2023)Note: Books 1 and 2 end with cliffhangers
Author Note
This series is recommended for older teens and adults, as it contains some violence, strong language, and steamy content. Spicy scenes progress gradually through the books with several scenes written on page in book three, but these are not overly explicit.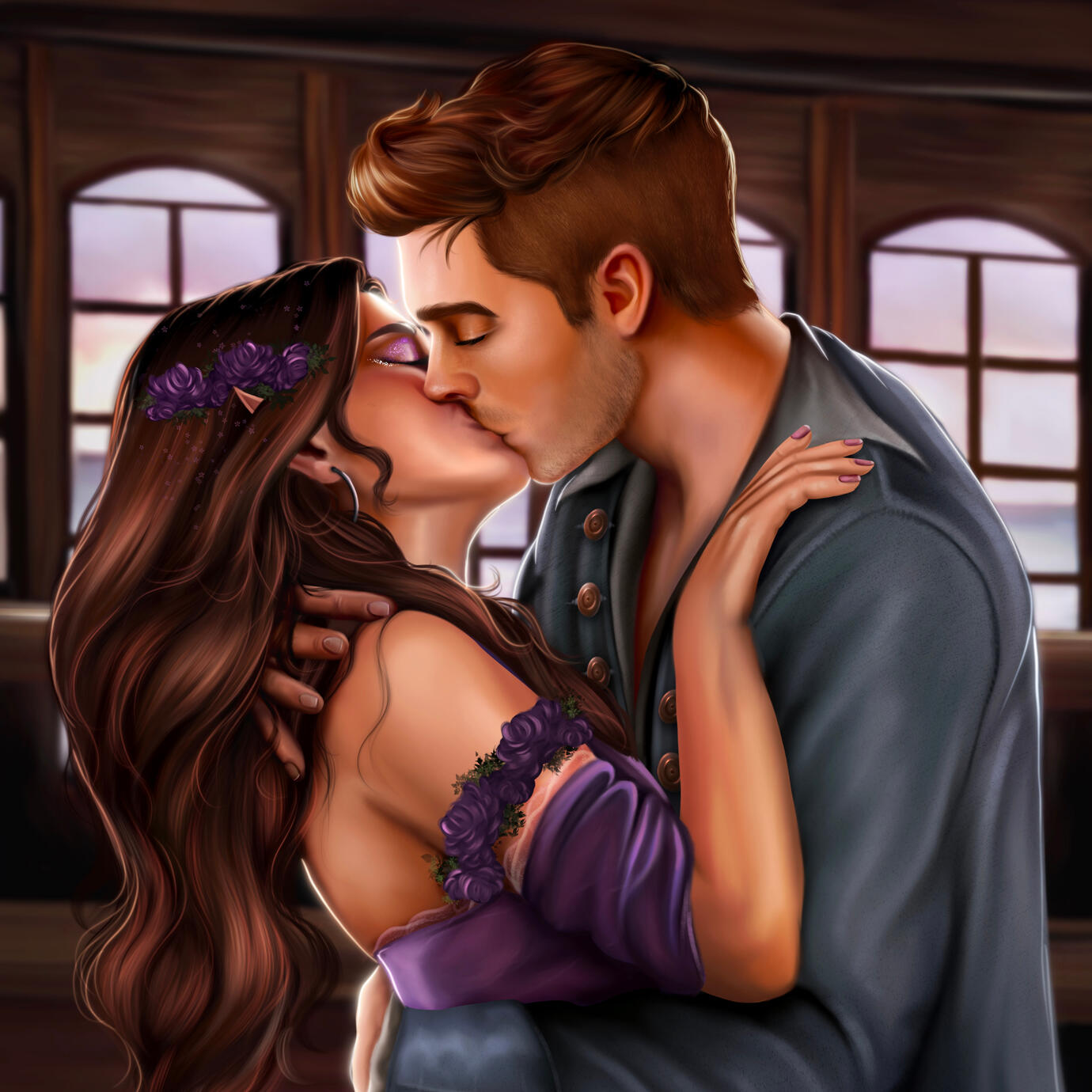 Spice Racks
What is a "spice rack" exactly?
Well, it's a list of chapters that contain intimate content. This is located at the end of my books that contain on-page intimacy.Why do this?
I know not all of my readers are comfortable with on-page intimacy. While I feel these scenes add depth to the characters and their relationships and growth, they can often be skimmed or skipped to suit the readers' comfort levels.If you want to have a heads up about what chapters contain this content, the spice rack is provided for you.
With These Last Breaths
Chapter 18 - heavy kissing
Chapter 32 - two scenes
Chapter 36 - one scene
Chapter 40 - one scene
Chapter 42 - one scene
Chapter 43 - one scene
More about Vanessa
Vanessa Rasanen writes new adult fantasy romance filled with sassy attitudes, relatable characters, and slow-burn. She loves a good cliffhanger, judges books by their covers, and wishes she could write faster. Her books include a smidge of salty language, a bit of blood, and a serving of swoon-worthy romance perfect for readers who don't mind spice, but don't need it on every page.She lives southeast Wyoming with her pilot husband and four kids. When she's not writing you can find her mixing up a gin & tonic, rewatching New Girl, running a small business, and wasting spending time on Instagram.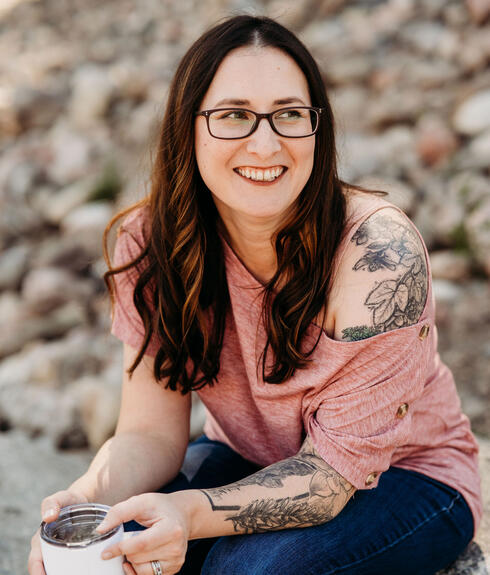 Contact Vanessa
Frequently Asked Questions
WHO IS VANESSA'S PUBLISHER?
Vanessa Rasanen's books are published through Crab Apple Books, a publishing imprint and business she started in 2018 when publishing Soldier On.WHY INDEPENDENT PUBLISHING INSTEAD OF TRADITIONAL?
Vanessa's entrepreneurial spirit lends itself well to independently publishing, allowing her the flexibility she needs and the influence she wants to have in the publishing process. Crab Apple Books is not simply a name to publish under, but is a publisher. Just a publisher with a staff of one.SO, CAN CRAB APPLE BOOKS PUBLISH MY BOOK?
At this time, Crab Apple Books is not publishing other authors' works due to the legal and financial work needed to pursue such a venture. Perhaps someday, but not in the foreseeable future.DOES VANESSA DO EVERYTHING HERSELF THEN?
While she does wear many hats in the publishing process, she lacks the skills and time to do everything. For those tasks, she hires those who do. This includes cover designers, cartographers, editors, tour coordinators, and more. However, she does do all book formatting herself, utilizing the experience with Adobe InDesign she gained at her day job.CAN VANESSA TEACH ME HOW TO PUBLISH?
Vanessa now offers coaching services for self publishing authors. More information can be found here.WHEN IS THE NEXT BOOK COMING OUT?
One of the best ways to stay in the loop is to subscribe to her newsletter.
Terms
Please read these Terms and Conditions carefully before using the vanessarasanen.com Website. The term 'you' refers to the user or viewer of our Website.I'm elated to have you here, and I look forward to hearing what you have to say. To ensure a positive online experience for everyone, we may monitor and remove certain postings and/or comments.The content of this Website is for your general information and use only. It is subject to change without notice. Your use of any information or materials on this Website is entirely at your own risk, for which we shall not be liable.All posts and/or comments must be made by people ages 18 or older, unless posted with permission from a parent or legal guardian.This Website contains material which is owned by or licensed to us. This includes, but not limited to, the design, layout, look, appearance and graphics.If you would like credit for any artwork displayed, you must have your name embedded within the image. I am not responsible for publishing artistic credit.Reproducing and Redistribution of Articles
Website posts may be reproduced and redistributed, in whole or in part, without alteration with prior written permission provided all copies contain a byline for the author and the following statement at the end of the article: "Reprinted with permission from vanessarasanen.com."Indemnification
As a condition of use of this Website, you agree to indemnify Vanessa Rasanen, its editors, and its contributors against any and all claims, demands, judgments, costs, liabilities, expenses (including attorneys' fees), and damages arising out of claims resulting from your use of this Website, including, without limitation, any claims alleging facts that if true would constitute a breach by you of these terms of service.
Privacy Notice
This privacy notice discloses the privacy practices for vanessarasanen.com. This privacy notice applies solely to information collected by this website. It will notify you of the following:What personally identifiable information is collected from you through the website, how it is used and with whom it may be shared.
What choices are available to you regarding the use of your data.
The security procedures in place to protect the misuse of your information.
How you can correct any inaccuracies in the information.Information Collection, Use, and Sharing
I am the sole owner of the information collected on this site. I only have access to/collect information that you voluntarily provide via email or other direct contact from you. I will not sell or rent this information to anyone.I will use your information to respond to you, regarding the reason you contacted me. I will not share your information with any third party outside of our organization, other than as necessary to fulfill your request, e.g. to fulfill a giveaway.Unless you ask me not to, I may contact you via email in the future to tell you about specials, new products or services, or changes to this privacy policy.
Cookies
Vanessa Rasanen use cookies on vanessarasanen.com. By using this Website, you consent to the use of cookies.What are cookies?
Cookies are small pieces of text sent by your web browser by a website you visit. A cookie file is stored in your web browser and allows the Service or a third-party to recognize you and make your next visit easier and the Service more useful to you.Cookies can be "persistent" or "session" cookies.How we use cookies
When you use and access the Service, we may place a number of cookies files in your web browser. We use cookies for the following purposes: to enable certain functions of the Service, to provide analytics, to store your preferences, to enable advertisements delivery, including behavioral advertising.We use both session and persistent cookies on the Service and we use essential cookies to authenticate users and prevent fraudulent use of user accounts.Third-party cookies
In addition to our own cookies, we may also use various third-parties cookies to report usage statistics of the Service, deliver advertisements on and through the Service, and so on.Your choices regarding cookies
If you'd like to delete cookies or instruct your web browser to delete or refuse cookies, please visit the help pages of your web browser.Please note, however, that if you delete cookies or refuse to accept them, you might not be able to use all of the features we offer, you may not be able to store your preferences, and some of our pages might not display properly.You can learn more about cookies and the following third-party websites:
AllAboutCookies
Network Advertising Initiative
Thank you
You're all done!A confirmation email has been sent your way.
Your subscription is not complete (and your free bonuses will not be sent) until you confirm.
If you don't see the email, check your junk folder.
(You can avoid future emails being hidden by whitelisting our email address. Mark it as "not spam" and add our address to your contacts.)Cheers!
Bonus Chapters!
YOUR BONUS CHAPTERS ARE WAITING
Get two free Aisling Sea bonus chapters when you subscribe to my emails.First is a prequel chapter that can be read before the series.
Second is an extension of chapter 34 in On These Black Sands, from Declan's point of view. This one should be read after finishing the book.