From These Dark Depths
Book 2 in the Aisling Sea series is now available for preorder! Releases August 16, 2022.
Being eaten by a siren queen is at least an interesting way to die.
And Declan has little hope of avoiding it while locked in this brig.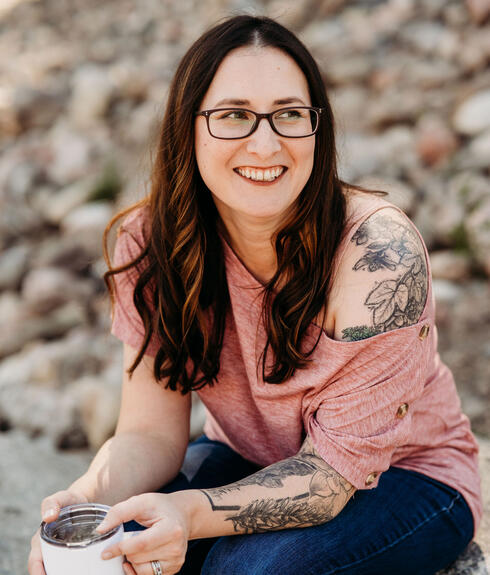 About Vanessa
A former engineer and data analyst, Vanessa Rasanen ditched her day job to focus on her writing. She is a lifelong early bird spending the pre-dawn hours reading and sipping coffee. When not writing you can find her running her small bookish business, listening to moody playlists with a gin and tonic, and creating new recipes for her kids to dislike.

She lives with her pilot husband and their four extroverted kiddos on the windy plains of Wyoming.
Get In Touch
Have a comment or a question? I'm happy to hear from you.
Unless you're a jerk. #vanessashrug
Signed Books & Merch
Signed copies of Vanessa's books are available for sale at her shop, Crab Apple Books.
Shirts, Mugs, Magnets, Jewelry, and Candles inspired by the Aisling Sea series are available at the below shops.
My Books
Signed paperbacks of my books are available at my shop, Crab Apple Books.
They are also available at most major retailers.
Hearts on Guard Series
Contemporary Inspirational Fiction
learn more
The Aisling Sea series
It's been 500 years since the Aisling War ended. The fae, gone. The lands, destroyed.
And the men, finding they couldn't return to their homes after so many years in battle, took to the seas as pirates.

No one wanted another war, but especially the citizens of Cregah who had lost more than most countries in the Aisling. They formed the Council, a group of women who would rule over the land and keep the peace. Blaming men's hunger for power and dominance for the destruction from the war, they sought to create a land of peace, where violence is outlawed, and men's power is kept in check so as to avoid inevitable bloodshed.

But they didn't foresee the lure of power and its ability to corrupt despite good intentions.
Available as paperback, hardcover, kindle ebook, and audible
On These Black Sands
Book 1
Release Date: August 10, 2021
He doesn't mind killing people... he just prefers to do it on his own terms.

But the pirates have no say in who they kill on this island.

The council orders. The pirates obey.

This arrangement has kept Declan from setting foot on these shores for years...until a bit of bad luck forces him to return.

But it may prove a lucrative stop, if the rebel's information is true.

Find the dagger. Escape this life.

But only if this damn stowaway doesn't ruin everything first.
_____________

This high seas tale of deceit, legends, and love features a deliciously gray hero, an awkward heroine, and a found family you'll root for. This is an enemies-to-lovers story with a slow-burn romance and one bed. It is book one of a trilogy and ends on a cliffhanger. But it's worth it.
From These Dark Depths
Book 2
Release Date: August 16, 2022
Being eaten by a siren queen is at least an interesting way to die.

And Declan has little hope of avoiding it while locked in this brig.

His captor is ruthless. His guilt is relentless.

Everyone he needs is back on his ship, hopefully chasing after him…without tempting death themselves.

But if they don't make it in time, he'll have to face the queen.

And his demons.

An heir stole his heart. Now that heart–and the remorse it harbors–may get him killed.

Or worse.
_____________

Black Sails meets Throne of Glass in book 2 of the Aisling Sea series. The stakes are higher with new dangers and more swoon-worthy romance sure to create fans of insta love. This is a forbidden love story with a bit of steam and a cliffhanger ending.
Preorder the paperback, hardcover, kindle ebook!
Hearts On Guard Series
Available as paperback and ebook
He's fighting for his country.
She's praying for his safety.
When tragedy strikes, can their marriage and faith survive?

Charlie and Meg Winters are no strangers to the military life and its challenges. But when an IED rips through his convoy killing his friends, the loss proves almost too much to bear.

Meg finds her trust in Christ wavering, and secrets she's been keeping for years drive a wedge between her and her husband.

What if everything Meg believes is a lie?

What if Charlie finds out what she's done?

Can Meg and Charlie save their marriage or will the horrors of war and the ghosts of their past tear them apart and forever shipwreck her faith?
Frequently Asked Questions
WHO IS VANESSA'S PUBLISHER?
Vanessa Rasanen's books are published through Crab Apple Books, a publishing imprint and business she started in 2018 when publishing Soldier On.

WHY INDEPENDENT PUBLISHING INSTEAD OF TRADITIONAL?
Vanessa's entrepreneurial spirit lends itself well to independently publishing, allowing her the flexibility she needs and the influence she wants to have in the publishing process. Crab Apple Books is not simply a name to publish under, but is a publisher. Just a publisher with a staff of one.

SO, CAN CRAB APPLE BOOKS PUBLISH MY BOOK?
At this time, Crab Apple Books is not publishing other authors' works due to the legal and financial work needed to pursue such a venture. Perhaps someday, but not in the foreseeable future.

DOES VANESSA DO EVERYTHING HERSELF THEN?
While she does wear many hats in the publishing process, she lacks the skills and time to do everything. For those tasks, she hires those who do. This includes cover designers, cartographers, editors, tour coordinators, and more. However, she does do all book formatting herself, utilizing the experience with Adobe InDesign she gained at her day job.

CAN VANESSA TEACH ME HOW TO PUBLISH?
Vanessa now offers coaching services for self publishing authors. More information can be found here.

WHEN WILL WE GET BOOK 2?
One of the best ways to stay in the loop is to subscribe to her newsletter.
WHITELIST MY EMAIL
Sometimes our email providers like to protect us from what they think is spam, and sometimes they protect us a little too well. Follow the instructions below to ensure my newsletter always makes it into your inbox.

If my email arrived in your junk/spam folder, you should be able to mark it as "not spam". You can also create a new filter for your inbox so that any mail from my email address does not go to spam.
Policies
Terms & Conditions
Please read these Terms and Conditions carefully before using the vanessarasanen.com Website. The term 'you' refers to the user or viewer of our Website.

I'm elated to have you here, and I look forward to hearing what you have to say. To ensure a positive online experience for everyone, we may monitor and remove certain postings and/or comments.

The content of this Website is for your general information and use only. It is subject to change without notice. Your use of any information or materials on this Website is entirely at your own risk, for which we shall not be liable.

All posts and/or comments must be made by people ages 18 or older, unless posted with permission from a parent or legal guardian.

This Website contains material which is owned by or licensed to us. This includes, but not limited to, the design, layout, look, appearance and graphics.

If you would like credit for any artwork displayed, you must have your name embedded within the image. I am not responsible for publishing artistic credit.

Reproducing and Redistribution of Articles
Website posts may be reproduced and redistributed, in whole or in part, without alteration with prior written permission provided all copies contain a byline for the author and the following statement at the end of the article: "Reprinted with permission from vanessarasanen.com."

Indemnification
As a condition of use of this Website, you agree to indemnify Vanessa Rasanen, its editors, and its contributors against any and all claims, demands, judgments, costs, liabilities, expenses (including attorneys' fees), and damages arising out of claims resulting from your use of this Website, including, without limitation, any claims alleging facts that if true would constitute a breach by you of these terms of service.
Privacy Notice
This privacy notice discloses the privacy practices for vanessarasanen.com. This privacy notice applies solely to information collected by this website. It will notify you of the following:

What personally identifiable information is collected from you through the website, how it is used and with whom it may be shared.
What choices are available to you regarding the use of your data.
The security procedures in place to protect the misuse of your information.
How you can correct any inaccuracies in the information.

Information Collection, Use, and Sharing
I am the sole owner of the information collected on this site. I only have access to/collect information that you voluntarily provide via email or other direct contact from you. I will not sell or rent this information to anyone.

I will use your information to respond to you, regarding the reason you contacted me. I will not share your information with any third party outside of our organization, other than as necessary to fulfill your request, e.g. to fulfill a giveaway.

Unless you ask me not to, I may contact you via email in the future to tell you about specials, new products or services, or changes to this privacy policy.
Cookies
Vanessa Rasanen use cookies on vanessarasanen.com. By using this Website, you consent to the use of cookies.

What are cookies?
Cookies are small pieces of text sent by your web browser by a website you visit. A cookie file is stored in your web browser and allows the Service or a third-party to recognize you and make your next visit easier and the Service more useful to you.

Cookies can be "persistent" or "session" cookies.

How we use cookies
When you use and access the Service, we may place a number of cookies files in your web browser. We use cookies for the following purposes: to enable certain functions of the Service, to provide analytics, to store your preferences, to enable advertisements delivery, including behavioral advertising.

We use both session and persistent cookies on the Service and we use essential cookies to authenticate users and prevent fraudulent use of user accounts.

Third-party cookies
In addition to our own cookies, we may also use various third-parties cookies to report usage statistics of the Service, deliver advertisements on and through the Service, and so on.

Your choices regarding cookies
If you'd like to delete cookies or instruct your web browser to delete or refuse cookies, please visit the help pages of your web browser.

Please note, however, that if you delete cookies or refuse to accept them, you might not be able to use all of the features we offer, you may not be able to store your preferences, and some of our pages might not display properly.

You can learn more about cookies and the following third-party websites:
AllAboutCookies
Network Advertising Initiative